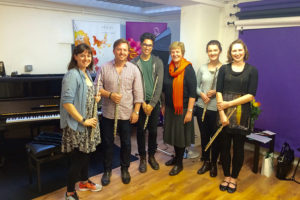 Originally published at: http://adelaidereview.com.au/arts/what-it-takes-to-be-one-of-the-greats/
When you've been teaching for a long time you get a sense of which students are going to be extraordinary.
Fortunately, I've had that feeling about my current group of advanced students; working with students who have insatiable appetites for all things flute, combined with exposure to high-profile pedagogues and performers, can help to produce something very special indeed.
With this in mind, I worked with my English and French colleagues to offer my talented students – Alessandra Woods, Andrew Baird, Jennifer Bird and Kelsey Robinson – something special: an intensive series of private masterclasses over three weeks in London, Paris and Lyon in September. The philosophy behind this project was to offer them insight into tertiary life in Europe, and what is needed to be accepted at any of the music institutions we visited. The students were entering the unknown and emerged from this experience different people and players.
Accompanied by Adelaide flute teachers Karen Fletcher and Samantha Hennessy, we began our London music experience by hearing the inspiring choir at Westminster Abbey at Evensong. The following day everyone arrived at the first masterclass feeling nervous at the prospect of playing for the Principal Flute of the London Symphony Orchestra (LSO), Gareth Davies. Davies is a wonderful and down-to-earth person but didn't initially put them at ease – instead, he put the students through their paces with a mock orchestral audition.
To receive immediate feedback from one of the world's best orchestral players is a rare experience. When you hear that a 2nd flute audition can attract 225 applications, this is the time to listen to every piece of advice very carefully on how to win an audition.
Duo flute excerpts were the focus of Simon Channing's (Head of Woodwind) class. It was an action-packed class and the students were able to soak up the 'orientation week' atmosphere.
Susan Milan teaches at the Royal College of Music in London and her orchestral experiences include the London Philharmonic and the Royal Philharmonic Orchestras. She is a prolific recording artist and has a wealth of experience training tertiary flautists. From the moment Milan collected us from the train station at Haslemere, we knew we were in for an extraordinary day at her home. She was meticulous in her criticisms and during the class we heard recordings of Gerard Souzay singing Schubert songs and an old 78 record of the great flautist Marcel Moyse playing Mozart.
Michael Cox, Principal Flute for the BBC Symphony Orchestra, and Paul Edmund- Davies, former LSO and now St Martin-in-the- Fields Orchestra, devoted entire days to us, demonstrating generosity and hospitality. Both classes were extraordinary and the students were on their toes, trying new ideas and absorbing every tiny detail. Cox focussed on being a storyteller and an artist; Edmund- Davies added humour and entertainment to his magical teaching, including advice on tackling nerves and adrenalin.
A quick Eurostar trip took us to Paris where we explored the Marais, Place des Vosges and the Isle St Louis, before preparing for class at the Conservatoire Darius Milhaud with Professor Patricia Nagle. She organised a concert presented by my students and sponsored by the Conservatoire, to a packed audience. Kelsey Robinson performed a work by our Elder Conservatorium Director, Graeme Koehne.
In Lyon we spent two days with outstanding autist Julien Beaudiment. Former Principal Flute of the Los Angeles Philharmonic, Beaudiment has returned to his home city of Lyon where he holds the positions of Professor at the Conservatoire de Lyon and Principal Flute of the Lyon Opera Orchestra. He is a natural, highly sought after teacher and he will be a wonderful contact in Lyon for our students in the future.
The final class was with Sophie Cherrier at the Conservatoire National Superieur de Musique et de Danse de Paris. She is a member of Pierre Boulez's Ensemble Intercontemporain and while the students initially found her daunting, she was tremendously encouraging.
After packing away their flutes and music, our students were able to walk the streets of Paris, knowing the extraordinary level of their recent accomplishments. New, exciting possibilities now await.